big tex . cowboy "getting some"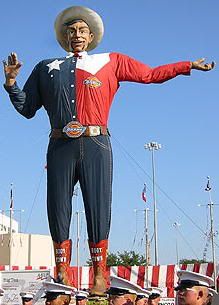 for those unaware of a rather large, LARGE statue that stands in the middle of a state fair held in texas, a photo was taken that is just too funny. but before we get to that photo let us understand big tex.
starting friday sept 24th to october 17th, the state fair of texas opens with attractions ranging from their famous car shows to some famous football game to concerts from country artist to amusment park rides that are the best, let's not forget the fair games that most seem to be fixed! well...
big tex is considered to be the world's largest cowboy. for those interested in his origin, you can
click here for more info
. he may not be real but just imagine he was, he and the green giant would be fucking all night long, an amazing show for all gay citzens around the world. the reason i say this is because a photo was published that shows big tex "getting some". i will admit, when i stand at the base of him and look him. he gives me one hell of a woody. a big one that i have to adjust myself in public. i'm getting one right now!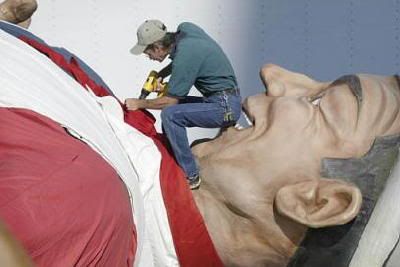 "Tim Thibodeaux is perched precariously atop' Big Tex' as he prepares the 52-foot-tall talking cowboy figure for the opening of the State Fair of Texas in Dallas, Monday, Sept. 20, 2004. Big Tex made his debut in 1952 and began greeting fairgoers in 1953."

wait. big tex is only 52 years old? i'll take a rugged large 52 yr old cowboy any day over a 20something college boy! i did a search on bigmusclebears.com and found this rugged cowboy that was a great find among a search of 168 under the word 'cowboy'. only known as '
SanDiegoWoofyItalian
', this specimen is truly worthy of the name BIG TEX aka big san diego! GOD DAMN IT! look at that hairy pit!