alexander . the bisexual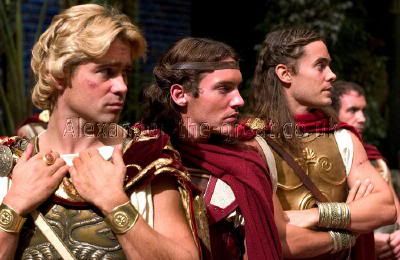 big news: colin farrell, the guy nearly all gay men want to see in an adult film [co starring russell crowe + tom cruise], is about to be editing out of his own movie... again. the first time he played a bisexual character in "Home at the End of the World" where he reveals all his girth [penis, i'm talking about his penis] to the audience. women in sneak previews gasped at the size while the men said, "it wasn't that big, i don't know what people are making a fuss over". oh the jealously.

alexander the great . the soundtrack
listen! 4 minutes . end titles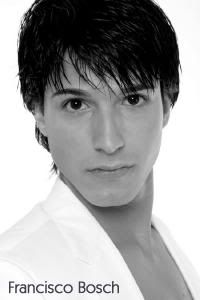 it seems the execs over at warner bros. films are in heated arguements over oliver stone to edit out those male on male scenes with colin's character - Alexander the Great with Bagoas, played by new cummer Francisco Bosch. This is marked as his first film noted by imdb.com. it seems oliver stone wanted to protray Alexander as a bisexual man but it seems as quoted from one insider says "Some of the suits at Warner Bros. think that the movie-going public just isn't ready to see that." you mean the str8 football watching public? right you suited a-holes. women + gay men are ready. the men are at home watching the games. but the 'suits' want those studs between the ages of 18-49 to pay their dollars to see a str8 colin make out with a bisexual angelina jolie!
below is the new trailer for the film. windows media format.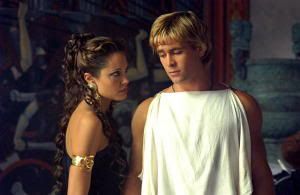 super hi-res trailer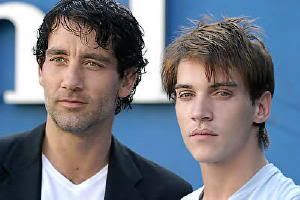 bonus:
look for another interesting actor in the film. jonathan rhys-meyers will be playing Cassander in the great cinematic bisexu- i mean str8 film. born and raised in Ireland, this new actor/model to the states will sure leave his sweaty mark on gay audiences. and the ladies as well. also appearing in that 'bend it' soccer film + 'vanity fair' with that actress in pink. anyways, rhys-meyers is also a talented singer and musician, having performed his own vocals in the film 'Velvet Goldmine' and appearing on the film's soundtrack. rhys-meyers still resides in Ireland. one of his next big projects seems to be a live action version of 'the last unicorn'. he is simply a beautiful man. as seen in this publicity shot with british actor clive owen [who should have been the next bond!].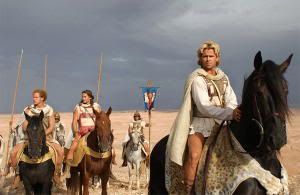 explore + conquer all men Alexander!